March is Women's History Month! Here at SCP, we celebrate all women
🏳️‍🌈🏳️‍⚧️

W
e are extremely lucky to have an abundance of amazing female partners & alumni

.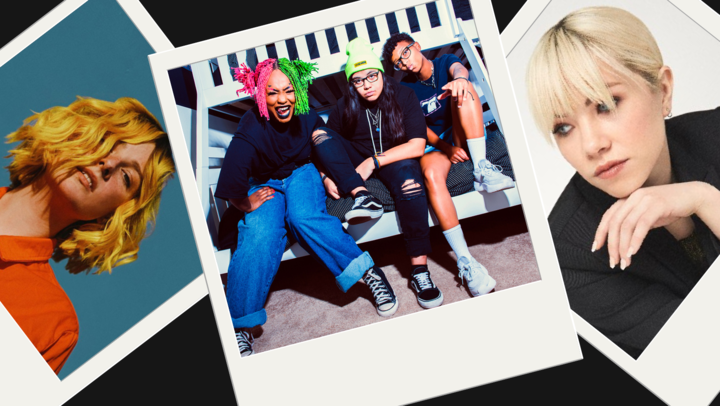 This March, we'd love to share some of their music with you. You can check out our Women's History Month playlist below:
Meet Me @ The Altar is a pop-punk trio that has been taking the scene by storm! They are currently on tour. You can view dates and get tickets here.
Tessa Violet – if you've been on TikTok recently, you're probably familiar with her. Her songs have been inspiring different TikTok trends, including her latest single, "YES MOM."
Tate McRae was first discovered when she appeared on So You Think You Can Dance. However, dancing is not her only talent. Her music has catapulted her into pop stardom.
Mitski is another artist that you may recognize from TikTok. She's currently on a tour that encompasses the US, UK, and Europe. You can view dates and get tickets here.
Carly Rae Jepsen became a household name with her pop hit "Call Me Maybe." Even though it was released over ten years ago, it is still just as catchy as the day it came out.
Kississippi – say that ten times fast. This artist's latest album, Mood Ring, was undoubtedly a whole mood. She is currently on tour. You can view dates and get tickets here.
Laufey is a singer/songwriter hailing from Iceland. She just released her debut EP, Typical of Me, in 2021. She describes her music as modern jazz. We can't wait to see what comes next for her.
Beach Bunny is a female-fronted pop band from right here in Illinois. Their music will have you feeling like you're on "Cloud 9" (wink, wink). They will be touring North America and Europe this year. You can view dates and get tickets here.
Kim Petras, a German singer/songwriter, just released her new EP, Slut Pop, last month. She'll be performing at Coachella this year–you can get tickets here.
Jessie Murph is a 17-year-old pop singer. She has a large following on TikTok and just released her new single, "Pray," last month.
Chloe Moriondo (she/they) is a 19-year-old singer who will be heading out on tour this May supporting SCP Alum mxmtoon. You can view dates and get tickets here.
Tierra Whack was an introverted child who began writing poetry as a way to help her deal with her insecurities. Her love for rhyming led to her successful rap career. She just released three new EPs in December 2021.
HONORABLE MENTIONS: SCP ALUM
Billie Eilish took the world by surprise when she became the first woman to sweep the big four Grammy categories in one night in 2020. She released her sophomore album, Happier Than Ever, last year.
Doja Cat is a rapper, singer, and songwriter who currently has eight nominations for the 64th Annual Grammy Awards. Good luck, Doja!
mxmtoon recorded her 2018 self-released EP, Plum Blossom, on her parents' laptop. It has garnered over 100 million streams. She is well-known for playing the ukelele and her social media presence.
Bikini Kill is a punk rock band known for its feminist lyrics. They will be embarking on a massive US tour beginning in April. You can view dates and get tickets here.
We hope that you'll enjoy listening to this playlist full of powerful women as much as we do. Happy Women's History Month!