For International Women's Day, we'd like to introduce you to

Hannah, our Senior Account Manager in the Digital Division

!
Hannah has been with us for a year and a half. She is an integral part of our team and we'd love for you to get to know her!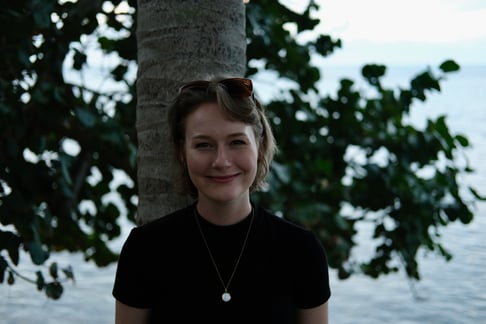 Q: What does your job entail?
A: I build merchandising brands for YouTubers, TikTokers, Twitch streamers, and Twitter-ers. Account managing is mainly project management with sales and customer service sprinkled in. Day-to-day–it's A LOT of emails, a surprising amount of math, building pitch decks, and sometimes, getting a call from a client at 11 PM on a Saturday because they don't love the way the footer of their site looks on their phone and they absolutely need to talk about it right now.
Q: What do you love about working for SCP?
A: I know it's cliche to say, but the people! The management at SCP is so kind and cool, and they work so incredibly hard. They listen when you speak and recognize if you're killing it. I've never once been micro-managed here. What more could you ask for??
Q: How has SCP helped to further your career?
A: I've definitely grown professionally in my time with SCP. The management here trusts you to do your job and will continue to increase your responsibilities if they see you killing it. I've never had a job push me so hard, but at the same time, have so much support from management. I'm really grateful for what I've learned here.
Q: What are three words you would use to describe SCP?
A: Innovative, authentic, relentless
Q: What album do you have on repeat right now?
A: Ninja Sex Party's The Prophecy. They're one of my favorite clients and very talented music boys.
Q: What is your favorite movie?
A: School of Rock. Jack Black, hmu if you need merch.
Q: What is your dream vacation?
A: Driving around the Scottish highlands. My partner was born in Scotland and I can't wait to see where he lived. We're hoping to go sometime next year!
Q: Do you have any pets?
A: Yes, I have a retired racing greyhound named Wyrm. He's 75 lbs of pure muscle that he only uses to run to the couch to take a nap. <3
Q: What do you like to do in your free time?
A: I love the beach. I live north of Malibu and I can't stop driving down to walk by the waves and watch the sunset.
Q: What is the best advice you've ever been given?
A: "Perfection and power are overrated. I think you are wise to choose happiness and love" from Avatar: The Last Airbender around 2008. In this house, we stan Uncle Iroh.